Basement Egress Windows Explained
Egress windows are windows that meet specific regulations in order to serve as an exit point in case of a fire or other emergency. In the case of egress windows it is essential to keep up-to-date with regulations as the consequences of not having a properly sized window can be deadly.
Basements are required to have windows that can be used as an escape should an emergency arise. It is unlawful to utilize any space as a bedroom without meeting the requirements.
The OBC ( Ontario Building Code 2020) details specific size requirements as:
Windows referred to above shall provide unobstructed openings with areas not less than 0.35 m² (3.77′), with no dimension less than 380 mm(15′′). To ensure the unobstructed opening meets these criteria, you should measure between the sashes, jambs, sills, and opening mechanisms. (See Figure 1 below)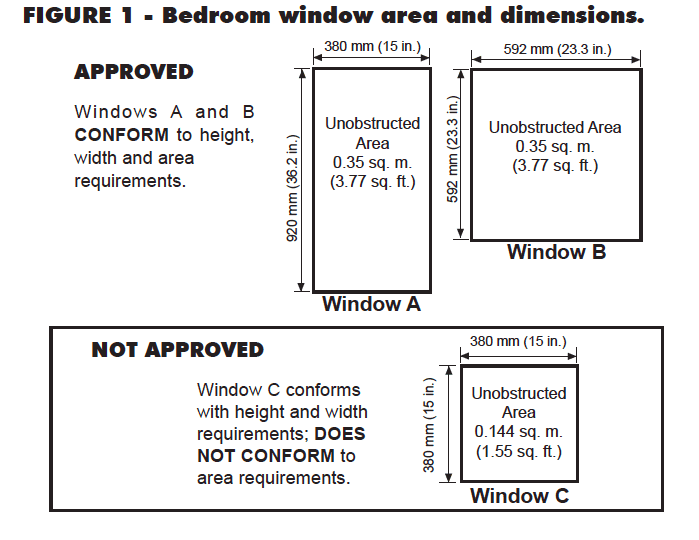 Egress Window Requirements
When should you get egress windows?
The National Building Code of Canada and Ontario Building code states that bedroom windows
must meet the following requirements:
Provide a minimum of 5-percent LIGHT for the floor area of the room.

Provide VENTILATION adequate for year-round mechanical ventilation.

Must be properly sized to provide EMERGENCY ESCAPE, be opened from the inside without use of keys, tools, hardware or special knowledge.

Basement Window Requirements

Basement egress windows are different when compared to those on higher levels.
All the same size and style requirements apply regardless of location. However, when it comes to basement windows, they are typically higher than one and a half meters above the floor. In this case it is always recommended that a step is built below the window to provide easy access in case of a fire or other emergency.
In many cases when basement windows are converted into bedroom basement windows to accommodate a playroom, concrete wall cutting might be required in order to make the window bigger.
In such cases, many window replacement companies recommend hiring a contractor that will enlarge the window opening to the proper window size. Your window replacement company will provide accurate dimensions based on local building codes.
This work usually requires a permit from your municipality, so make sure to clarify with your company whether your window installation requires any additional approvals. As the homeowner, you are usually required to obtain and secure a cut-out permit.
After the opening is enlarged, the new window can then be installed.
Replacing a basement window is the right choice when windows do not meet safety standards.
If you've got a limited budget and have general contracting knowledge, you may want to tackle some of the
prep work that's needed such as:
Calling the utility companies to mark underground hydro, natural gas, cable and water lines. This is not only a good idea so you don't damage these hidden lines, but it may also be a law in your province to call before doing any excavation work. Dig Safe Canada has a list of all provincial regulations to assist you.

Establishing the dimensions for the egress window you want to use.

Ordering the proper type and size window. There are specific requirements associated with egress windows.

Build window framing from pressure-treated lumber.

Possible digging out the window well area (that may be needed to comply as an escape route.)

Installation of window well (you may need an expensive custom size.)

Addition of flexible, PVC irrigation pipe that will allow the well to drain properly.

Tarping the interior to protect a finished basement from water damage when cutting the concrete. Water is used to reduce friction on the cutting blades and could damage exposed items inside

Remember, professional concrete cutters will make sure these critical elements of the job are done properly so you avoid major structural damage and/or extra expense:
Proper opening size and location (including accommodation for the window frame.)

The right type of egress window well is used to meet code and height requirements. It will also include proper irrigation to allow the well to drain instead of fill with water during rainstorms or snowmelt.

All permits are in place prior to construction. This means that the specific requirements for your area are met for egress windows, concrete cutting, and any special codes related to the project.

Window well is positioned away from the downspout to prevent flooding.

Oversized openings are reinforced with metal bars or plates.

Budget overview and itemized scope of work identifies any extra costs associated with special finish work, concrete pours, reinforcement, thick walls, or decorative stones.

Breaking up the concrete and removing the pieces of the wall area to accommodate the window and frame.
The contractor can explain the various efficiency options available to keep your basement area free of drafts and water infiltration. This will not only make the space more comfortable, but it will also save you money on utility bills year-round.
Window wells are an excellent option when adding a below grade window. Your average do-it-yourself-er can easily purchase a window well from retailers with a price tag between $30 to $100. The additional digging, grading and other preparations must also be considered. Hiring a professional will cost from $500 up to over $2000 depending on the requirements specific to your project.
Required window wells must be at least 760mm (29,92′′) away from the window to allow for easy exit. Typical basement awning windows do not comply with building codes as they are not large enough or open sufficiently to allow clear passage.
Best Windows for Basements
Adding an egress window to your basement will provide a cost-effective way to add more living space to your home and extra value when you sell. Don't risk your safety and budget by trying to do the entire project yourself; hire a pro. By hiring a professional concrete cutter to do the "heavy lifting," you'll be assured that the job is done safely, quickly and properly for many years of enjoyment.
Proper installation makes all the difference. The installation will be done with the proper concrete tools, TapCon or Ramset nails/fasteners and hardware for a secure fit. You can expect waterproofing with caulking, flashing and concrete glue.
Interior and exterior trims, hardware and security features can be done at the time of window installation for a complete, finished product.
Hiring a professional window company will also provide you with a warranty on both materials and labour. This will cover any problems you may encounter long after the project has been finished and save you from doing the work again.
The cost of an egress window is an important factor, with low-end windows costing only $400 – $500, whereas high-end, larger windows cost almost $1,000 apiece. Hiring a pro will obviously increase these costs, too. Additional requirements such as excavation for a basement window and the addition of a casement and stairs will also increase costs substantially, by $1,000 or more. On average, homeowners pay approximately $2,300 for the installation of egress windows.
When you hire a window installer to handle your egress window project, you'll be assured of getting the proper window for the specific application you'll be using. For example, the National Building Code of Canada (NBCC) requires minimum light for the floor area, year-round mechanical ventilation and properly sized to provide sufficient height, width and area to be used as an emergency escape route.
You can add value to your home with an extra bedroom, home office space, entertainment room or even an in-law apartment in this typically underused area below ground. While this seems like an easy enough DIY project, one of the first things you'll need to do is add an egress window to meet building codes.
Today's building codes require a means of escaping from your home in an emergency situation when the use of normal building exits isn't available. While windows are not typically considered the main escape routes, having access to an unobstructed egress window can save lives. Full vent in-swing awning and hopper windows that meet the proper size and opening requirements can be used as egress windows.
What other rules apply to egress windows?
Windows with security bars installed must be operable from the inside without special tools or knowledge.
Egress windows cannot be higher than 1.5m (4.92
′)
above the floor.
If a sprinkler system is installed in the room, an outside window is not required for emergency exit.
As you can see, replacing basement windows with egress windows can be the difference between life and death. Ensure your home's windows are up to code and enjoy the light, ventilation and peace-of-mind that every homeowner deserves.